Numero 12/2023
20 Marzo 2023
How to pair american craft beer with cheese or charcuterie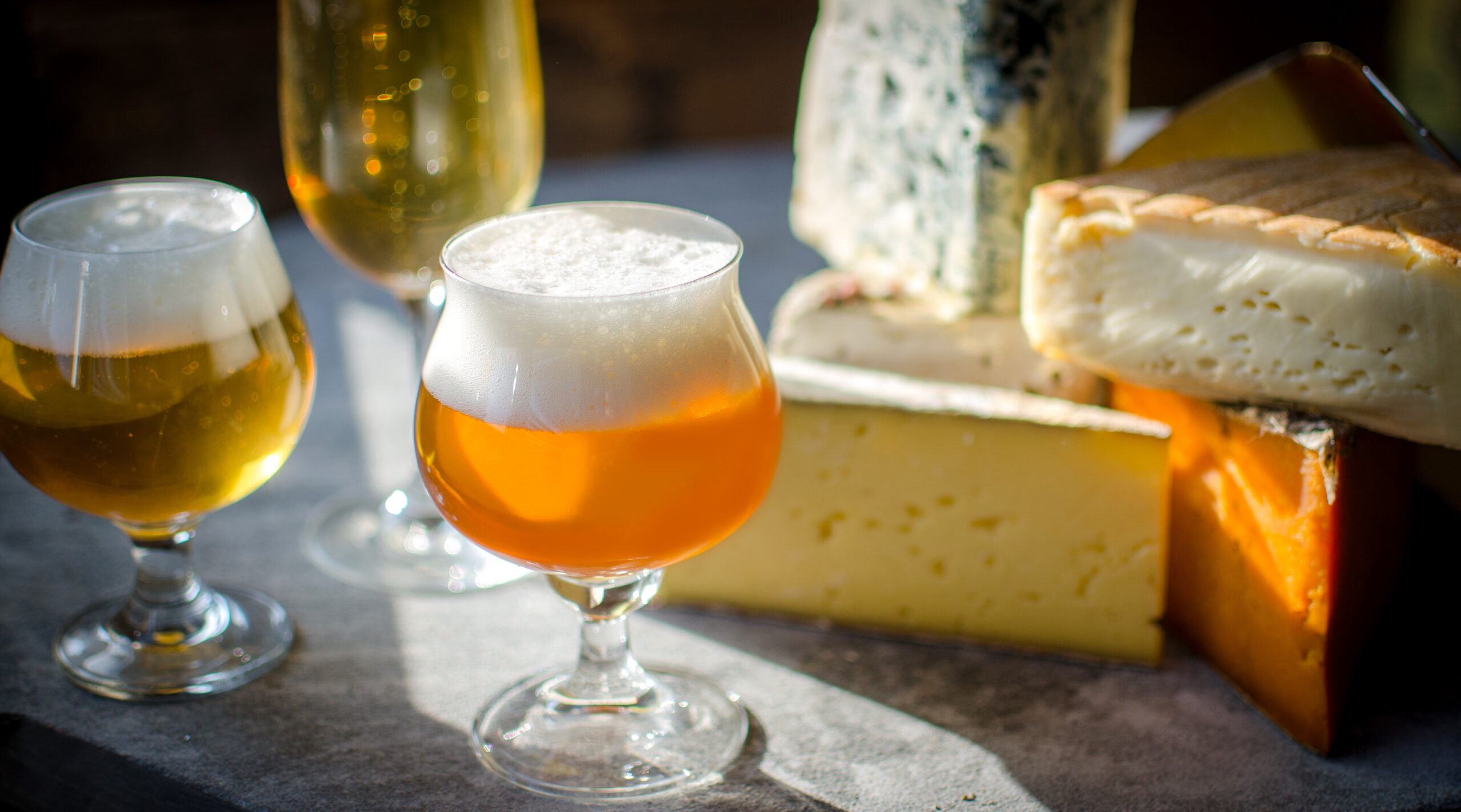 Lotte Peplow, the Brewers Association's American Craft Beer Ambassador for Europe explores the incredible flavour synergies between cheese, charcuterie and high quality American craft beer
American craft beer with cheese or charcuterie is a winning combination and can elevate both to a higher level.  Beer has a wider flavour spectrum than almost any other beverage and the different ingredients, flavours and mouthfeel of beer makes it the perfect partner for foods with a high fat content and strong flavours such as cheese or charcuterie.  American craft brewers pioneered the global craft beer movement back in the early 1980s and such beers are worth seeking out for their quality, complexity and creativity.  Today, American craft beers produced by small and independent American craft breweries regularly win top honours at prestigious international beer competitions judged by panels of experts.
Unlike wine, beer is carbonated making it effective at scrubbing the palate clean and leaving the mouth feeling refreshed and ready for the next mouthful. Beer interacts with food using three main techniques; complementing, contrasting and cutting.   Complementary flavours occur when the beer harmonises with the food and echoes the main flavour character of the dish eg, malty beers with creamy, nutty, earthy or caramel flavours in cheese.  Contrasting works when the dominant flavour of the food contrasts with the flavour profile of the beer eg, sweet v salty (think imperial stout and Parmegiano-reggiano) and cutting means the acidity, bitterness and carbonation found in beer can cut through the rich, fat content of cheese or charcuterie to cleanse the palate, eg. pilsner with Fontina.
Here are a few guidelines for getting started:
Cheese, like beer, should be served at the correct temperature. Take cheese out of the fridge and let it warm to room temperature before pairing.  Keep beer at the correct temperature for the style.
Match intensities. Delicate, lighter American craft beers often pair well with young or mild cheeses, while stronger flavoured beer tend to work better with full-flavoured, mature cheeses.  The same applies to cold meats.
Look for common ground. For example, a malty craft beer pairs well with a nutty cheese, or a hoppy, bitter beer cuts through a cheese with a high fat content
Think about other sensations and interactions such as acidic or salty cheese with a hop-forward beer
Charcuterie refers to smoked, cured or cooked meats and generally involves salting (preserving) and air-drying, and this effects how they interact with beer
Balance the palate with nuts, olives, dried fruits, fresh fruits, honey or pickled items which make good additions to an American craft beer and cheese pairing
Aim for 25g of cheese per 100ml pairing of beer
Suggested American craft beer and cheese pairings
CHEESE STYLE
BEER STYLE
DESCRIPTION

Soft Cheese
Wheat beer, Lambic-style beer
Mascarpone, ricotta, mozzarella, goat's cheese etc will match the delicate notes of the beer without overwhelming the palate
Semi-soft Cheese
Kolsch, Pilsner, Pale Ale
Fontina, Provolone, Cambozola, Reblochon etc can be enhanced by a high level of carbonation.  Salty cheese like Feta or Quartirolo needs a thirst-quenching, refreshing style to combat its dryness
Hard Cheese
Brown Ale, Imperial Stout, Bock
Pecorino Toscano, Asiago, Parmigiano-reggiano etc echo the nutty, earthy notes of a brown ale or stout.  These beers add creaminess on the palate to a hard cheese
Blue Cheese
IPA or Imperial IPA, Barley wine
Strongly flavoured cheeses such as Gorgonzola, Roquefort, Danish Blue etc can be successfully balanced with bolder beer styles
Natural Rind Cheeses
Golden/Blonde ale,
Pale ale
Tommino, Young Gorgonzola, Camembert, etc have a rich creamy base that can be refreshed with a golden, blonde or pale ale.
Washed Rind Cheeses
Belgian-style ales
Vacherin, Taleggio, Port Salut etc. Beers bring out the cheeses' delicate sweet note and can cut through the funk of the washed rind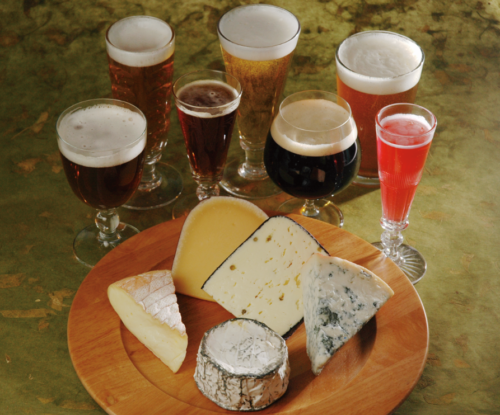 And if you're a fan of cold-cuts, smoked meats and charcuterie this guide is for you:
TYPE OF CUT
DESCRIPTION
BEER PAIRING
Prosciutto di Parma

(pork)

A classification of ham from the Emilia-Romagna region of Italy.  Known for its umami flavour
Pilsner, Doppelbock or Saison
Bresaola (beef)
Dark red cut of beef, thinly sliced.  One of the leanest cured meats
Brown Ale
Speck (pork)
Smoked, cured meat, milder and firmer in texture than prosciutto
Smoked Beer, American Pale Ale
Soppressata
An Italian dry-salami.  Typically made from lean pork, rich in flavour
Robust Porter
Chorizo (pork)
A distinctive bright red colour due to addition of smoked paprika.
Smoked Beer, Pilsner
Mortadella (pork)
Cooked sausage made from ground pork meat, garnished with pistachios and small cubes of fat for extra flavour
Belgian-style Trappist ale
Salami Piccante (pork)
Can be spicy to mild. Spiced with paprika and hot to mild red peppers known as peperoni
Imperial IPA
Chicken Liver Pâté
Usually made from chicken liver and spices
Stout
In the States, American craft beer is often the beverage of choice when pairing with food.  According to a Nielsen survey, nearly half of craft beer drinkers in the States say they drink beer with food always or often, 63% of people select beer based on what they're going to eat and 88% enjoy a beer with their meal at least sometimes.  Pairing American craft beer with cheese or charcuterie is a good way to begin your beer and food pairing journey.
A range of high-quality American craft beers are available in selected Co-op supermarkets, Ipercoops and independent beer shops or in bars and clubs throughout Italy.
The Brewers Association is a not-for-profit trade organisation representing small and independent American craft brewers.  Free downloadable resources to help you understand and enjoy American craft beer are available at  www.brewersassociation.org
About the Brewers Association
The Brewers Association (BA) is the not-for-profit trade association dedicated to small and independent American brewers, their beers and the community of brewing enthusiasts. The BA represents 5.600-plus U.S. breweries. The BA's independent craft brewer seal is a widely adopted symbol that differentiates beers by small and independent craft brewers. The BA organizes events including the World Beer Cup®, Great American Beer Festival®, Craft Brewers Conference® & BrewExpo America®, Homebrew ConTM, National Homebrew Competition and American Craft Beer Week®. The BA publishes The New Brewer® magazine, and Brewers Publications® is the leading publisher of brewing literature in the U.S. Beer lovers are invited to learn more about the dynamic world of craft beer at CraftBeer.com® and about homebrewing via the BA's American Homebrewers Association® and the free Brew Guru® mobile app. Follow us on Facebook, Twitter and Instagram.
Issued on behalf of the Brewers Association, 1327 Spruce Street, Boulder, Colorado, 80302 USA.  www.brewersassociation.org
For further press information please contact Lotte Peplow on 07973 698 414.  Lotte@brewersassociation.org