Numero 39/2023
29 Settembre 2023
Great American Beer Festival: a review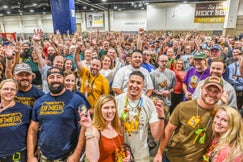 Lotte Peplow, Brewers Association's American Craft Beer Ambassador for Europe, reviews her experience at the recent Great American Beer Festival
Mind-blowing, memorable and unique best describes the Great American Beer Festival, organised by the Brewers Association, the not-for-profit trade association for small and independent American craft brewers.  A beer lover's paradise, it's the largest public beer tasting event in America and has been dubbed by Thrillist as 'the one beer festival to try before you die'. This year's edition took place 21-23 September 2023 at the cavernous Colorado Convention Centre in Denver and attracted 40,000 attendees who came to sample 1,800 beers from 500 breweries.  Compare today's figures to the original numbers of 24 breweries pouring 47 beers attended by 800 people back in 1982 and it's easy to see how the Festival has grown.
The Great American Beer Festival competition took place just before the Festival and attracted 9,300 beers from 2,033 breweries judged over three days by 250 beer experts.  There were 303 medals awarded in total to 263 breweries.  Winning beers are poured at the Festival and create a huge buzz as attendees seek them out after the winners' announcement.  It was great to see US craft breweries who export winning medals because they are more likely to be obtainable by us humble beer lovers in Europe and included beers from Alesmith Brewing Co, Allagash Brewing Co, Belching Beaver Brewery, Breakside Brewery, Deschutes Brewery, Fifty Fifty Brewing Co, Firestone Walker Brewing Co, Hoppin' Frog Brewing Co, Left Hand Brewing Co, Modern Times Beer, Oskar Blues Brewery Port City Brewing Co and Reubens Brews.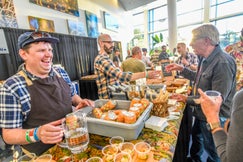 In order to stay fresh and relevant Great American Beer Festival is constantly re-inventing itself with new additions, new experiences and new innovations.   For the first time this year the Festival featured an international pavilion pouring 16 beers from five familiar European breweries from Germany, Belgium and Iceland.  Also new was the National Black Brewers Association comprising four black-owned breweries pouring 12 different beers and the Gluten-Free Garden offered 24 different gluten-free beers in one section.
There was a slew of ciders and hard seltzers for those seeking a change from beer and a Non-Alcoholic Oasis including 32 no/low alcohol offerings and hop water, adding a creative new dimension to the beverage choices.
What's more, there were plenty of things to see and do to keep attendees entertained such as the Karaoke stage, the Silent Disco (always a popular spot!), the Backyard where visitors can hang out, play games, chill in a comfy chair and get some food or the Brewers Studio for learning and discovering from some of the most provocative personalities and innovators in the brewing community.   Fancy dress was 'de rigeur' with a different theme every day and pretzel necklaces ranged from the basic to the bananas (literally!).   Foodies can seek out  beer and food loving heaven at PAIRED, where independent craft breweries unite with acclaimed chefs to produce mouth watering delicacies perfectly paired with 50 special beers not found anywhere else on the Festival floor.
But the star of the show is undoubtedly the beer range. Pours are only 1oz or 30ml to ensure 'sampling' rather than chugging back as much beer as possible.  Despite a multitude of 1oz pours, after four sessions at the Festival I had barely scratched the surface and offer my survival suggestions which include sampling only…..
One style per hour – my plan was to start light with lagers, blonde ales and session ales then work my way up to the big hitters thus sampling as wide a range as possible of beer styles on offer. However, while my strategy should have worked in theory, in practice it was easy to get distracted by something rare and amazing and I often found myself side-tracked by a beguiling, rare, unmissable beer eg a DIPA aged in Oloroso Sherry barrels at 15.4% ABV (it was incredible!)
Beers with the longest queues which indicate a 'hype' beer or limited-edition release  – breweries advertise when a beer is being tapped and the queue starts building hours in advance eg, Samuel Adams poured Utopias, a 28% ABV strong ale specially blended with cacao nibs and orange peel at 8.23pm on Saturday night and hundreds of people waited patiently for their 1ounce sample.  While this strategy ensures you'll taste the hype beers you'll spend a lot of time queueing and less time sampling and if you wish to pursue this option it's best navigated with a buddy who can stand in the queue while you sample something nearby and vice versa.
Medal winning beers – you'll spend a lot of time at the Heavy Medal booth where gold medal winners from past Great American Beer Festivals and World Beer Cups are poured, but it's totally worth it. Then, as soon as the winners are announced prior to the start of the Saturday session, be ready to seek out the winning beers (and be quick, they go fast!)
Beers with witty, creative or entertaining names – such as 'Chai Ai Captain', gold medal winner in the herb and spice category, the dark lager 'Flek Me??? No Fleck You!!' or rye beer, 'Steamy Wonder'. The list is endless but requires dedication and pre-planning!
Experimental beers – like Belching Beavery Brewery's Tropical Terps, brewed with terpenes – aromatic compounds naturally found in citrus fruits, pine trees, hops, and cannabis (although the terpenes used in this beer were not derived from cannabis!). It's always fascinating to discover how American craft brewers are pushing the boundaries of creativity and experimentation.
Alternatively – don't have a plan and simply go with the flow!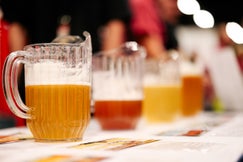 After three days of judging the Great American Beer Festival competition and three days at the Festival it was an honour and a privilege to sample some of the best American craft beers on offer.  Should you find them in your market, be sure to try them!
In Italy, American craft beer is available from on-line retailers, select bottle shops and selects bars.
The Brewers Association publishes a wealth of resources to understand and enjoy craft beer, downloadable free of charge from www.brewersassociation.org
Brewers are invited to register for the World Beer Cup 2024, the biggest and most prestigious beer competition in the world.  Registration opens in November 2023.  More details on www.worldbeercup.org
-ENDS-
About the author: Lotte Peplow is the American Craft Beer Ambassador for Europe for the Brewers Association and is based in London, UK.  She is a Certified Cicerone®, BDI accredited Beer Sommelier, beer writer, author, beer communicator, international beer judge, homebrewer and beer lover
About the Brewers Association
The Brewers Association (BA) is the not-for-profit trade association dedicated to small and independent American brewers, their beers and the community of brewing enthusiasts. The BA represents 5,600-plus U.S. breweries. The BA's independent craft brewer seal is a widely adopted symbol that differentiates beers by small and independent craft brewers. The BA organizes events including the World Beer Cup®, Great American Beer Festival®, Craft Brewers Conference® & BrewExpo America®, , Homebrew ConTM, National Homebrew Competition and American Craft Beer Week®. The BA publishes The New Brewer® magazine, and Brewers Publications® is the leading publisher of brewing literature in the U.S. Beer lovers are invited to learn more about the dynamic world of craft beer at CraftBeer.com® and about homebrewing via the BA's American Homebrewers Association® and the free Brew Guru® mobile app. Follow us on Facebook, Twitter and Instagram.
Issued on behalf of the Brewers Association, 1327 Spruce Street, Boulder, Colorado, 80302 USA.  www.brewersassociation.org
For further press information: Lotte Peplow: lotte@brewersassociation.org +44 (0)7973 698 414